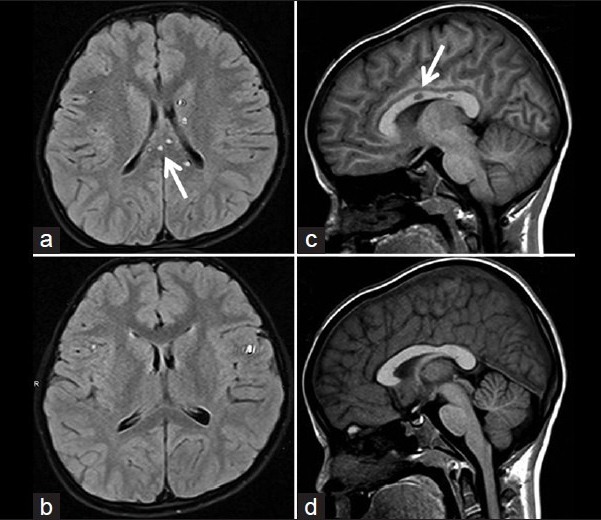 MRI showing typical Findings in Susac's syndrome. Figure legend from original publication:

(a-d) Magnetic resonance imaging FLAIR T2 image showing multiple well-defined hyperintense lesions in periventricular and callosal area.
Magnetic resonance imaging T1 image showing hypointense lesions in center of corpus callosum. Magnetic resonance imaging, 4 weeks later
showing almost complete disappearance of lesions.
Source: Prakash G et al. (2013). Susac's syndrome: First from India and youngest in the world. Ind J Ophth 61(12):772-773.

Full text on PubMed.

This figure is licensed under the Creative Commons Attribution-Noncommercial-Share Alike 3.0 Unported license, which
permits unrestricted use, distribution, and reproduction in any medium, provided the original work is properly cited.

Back to Susac's syndrome page.
Page last modified on 20 January 2019.